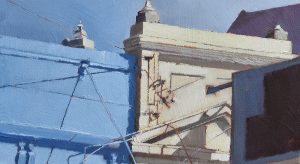 That Framing Place was established by local photographer Lynn Pearce in 1987.
Lynn had a vision for That Framing Place – to deliver a bespoke framing service using only
the finest materials and quality craftsmanship. Now thirty years on, Lynn has built a well-loved,
local business with a loyal following.
To celebrate 30 years on the peninsula, Lynn has invited an A-List of local artists and creators
to pay homage to the communities of Balmain and Rozelle that have always supported her.
I'm very happy to have been invited to be a part of this special exhibition.
This painting is a detail of one of six rooftop paintings I have included in the show.
Exhibition dates: September 30 – October 26.
Join us  – to celebrate – from 5pm 30 September @gallery503
503 Balmain Road Lilyfield (Opposite Callan Park)