02 Jun

Sold at Tamworth!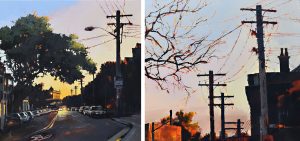 Sunset on Beattie Street 42 x 42cm
Dick's Hotel at Dusk 42 x 42cm
I was invited to take part in a small group show at the Weswal Gallery, Tamworth in March.
It's a lovely gallery set high at the end of Brisbane Street (and with a great cafe!). Kate, the owner, was very generous to show me around and chat about the broad range of her artists and our group show which was called "Streets of My Town". In my case that's actually "suburb" but that was ok.
The interesting thing in a show – to me anyway – is how different artists approach the same subject. I love that.
🔴  Both paintings sold in the exhibition. A big thank you Weswal Gallery!