16 Apr

A very small commission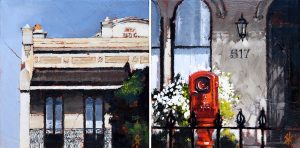 This pair of Very Small Paintings were commissioned for people who have moved house.
My Very Small Paintings are very affordable and are a great way to keep memories, to give as gifts
or just as visual snippets of local themes. Also they can be hung side by side or one above the other.
Or not together. Anywhere. Email or call me to enquire.
I don't take a deposit for the very small commissions but I do charge a little more than usual
as they are often more complex than my normal Very Small Paintings.
But then… if you don't like the work you don't have to pay for it!