12 Mar

Inner West Art Trail 2018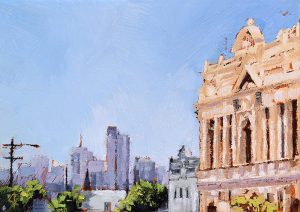 As part of Art Month Sydney, over 100 inner west art studios and galleries open their doors
during this annual Art Trail. It's a rare opportunity for the public to see inside working studios
and chat with the artists direct, and perhaps even purchase an affordable work of art.
The Art Trail stretches over 2 weekends in March. Included are many tours, workshops,
artists talks, and exhibition openings and most events are free. More info @innerwest_council
This work, Balmain to Barangaroo is from my Very Small Paintings series and sold during
the trail, along with quite a few others. Thank you all who dropped by my studio on Saturday,
your purchases and lovely compliments!
This year, my studio was only open for one day, so on Sunday I became "a tourist" and visited
a few studios myself. Something I actually never get to do! I love this community event as artists
meet and get feedback from the public, but also engage with other artists from all disciplines as well.
Looking forward to next year!