12 Dec

It's worth checking the archives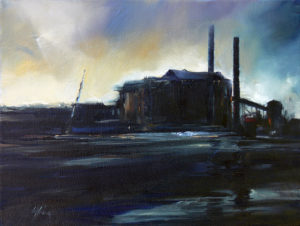 Disused oil on canvas, 31 x41 cm.  I painted this in 2013 and no one showed much interest at the time.
Too dark, too depressing they said. I was going to keep it – I like the brushwork, the colours, the light – but then a year
or so later it sold to a like-minded client in Victoria. I'm always a little sad to see my favourite paintings go.
It's good to look at the older work in the archive section. Older work doesn't always mean "less good", it can show
a change in direction or how the current work has developed. An artist's work evolves/changes over time and
looking back can trigger new ideas for the artist as well, because you look at things in a different way.
Someone was looking in the archives recently – and now this work has inspired a large commission for 2017.
I'll be working on the studies in February!