01 Apr

Mansfield Art Show – Perfect Easter get away!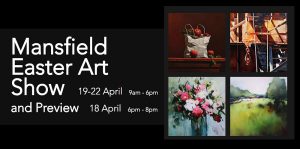 A highlight, and major annual event in Mansfield is the Easter Art Show
hosted by Richard A Watson Fine Art.  My work will be hanging along side a diverse collection
of more than 30 incredible well respected artists (including Kristine Ballard, Joanna Burgler,
Ji Chen, Kathy Ellem, David Frazer, Steve Harris, Craig Penny, and watercolorists Malcolm Beattie,
Herman Pekel, Joseph Zbukvic – and more) – in the picturesque country town at the foot of Mt Buller.
And it's a great time for an Easter break in Victoria's beautiful High Country!
Mansfield Easter Art Show
19-22 April, 9am-6pm
Masonic Hall, Highett St Mansfield, Victoria.
Preview: 18 April 6-8pm
There's so much to see in & around the town – so stay for Easter!

About Mansfield – Mansfield is a gracious town of wide streets and historic buildings situated
on Fords Creekin a valley at the foothills of the Great Dividing Range, surrounded by grazing land
and mountain forests, well-known for its stunning scenery.
The town centre has several historical buildings, dating back to its days as a stock route camp
in the 1940s and a gold mining service centre beginning in the 1850s. High Street and Highett Street
form tree-lined boulevards with gardens along their wide central strip as they meet in the town centre.
At their junction is a marble monument which was erected in 1880 as a tribute to a group
of constables killed by bushranger Ned Kelly.
Mansfield features a vibrant commercial centre which absolutely buzzes with fun and
entertainment for everyone over Easter. The Goulburn Valley wine region is also nearby, stretching
from Seymour in central Victoria right up to Echuca on the Murray River.
So come on down for Easter and stay a while for a great break, and some wonderful art!