01 Apr

Sold at Toowoomba!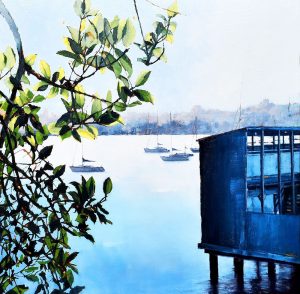 This was the first time I participated in the Grammar Art Show at Toowoomba. I thought the Balmain Art Show
was big, but this one was huge! I couldn't be there but the online videos showed a big range of high quality
work from over 290 artists Australia wide. It would have been a mammoth curating and hanging job
so hats off to the team putting it together – it looked amazing! And I'm very pleased to be included in this show.
Down at Dawnies
oil on canvas 2021. 76 x76cm
Peeking around the side of the old dressing sheds at Balmain's Dawn Fraser Swimming Pool.
All is quiet and still as the day comes to an end. The boats are safe on their moorings and everyone
has gone home, but this is a most beautiful serene time of the day.
This painting is now sold but I have another one,
Still Water – available online:
Toowoomba Pop Up Gallery – until MAY 2
GrammarARTshow.com for the details.
DAWN FRASER POOL HISTORY:     The baths were originally built in 1882, then enlarged in 1924, also known as Elkington Park Baths,
Balmain Baths and Whitehorse Point Baths – it was open to men during daylight hours and at limited times for women!
The Balmain Swimming Club was founded in 1884 shortly after the baths were opened.
Times changed and in 1964 the pool was renamed in honour of local swimming legend, Dawn Fraser.
Olympic Swimming Champion at three consecutive Olympic Games, Dawn Fraser learnt to swim at the baths from age 8.
Historically significant (Heritage listed in 2000), it's an excellent example of pool architecture no longer practiced.
A landmark set in an attractive harbourside location, this recreational and social facility is strongly associated
with prominent swimming identities and world champions. Retaining its old school characteristics, the pool is
surrounded by a timber deck used for access, watching swimming races and sunbaking and at low tides there is a small
sandy beach alongside the entrance.