15 Dec

White Bay update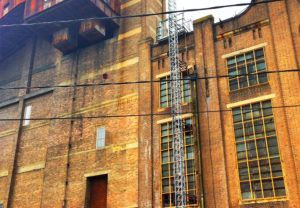 Very quietly and in recent weeks, we have seen some men in yellow coats
and hard hats. Scaffolding, external stairs, wire mesh & boards have
gradually been installed. Many of the broken windows are gone.
You can see a Port-a-Loo on the roof facing Victoria Road visible from the traffic lights
(it's a brave person who exposes themselves to all those cars!). White Bay Power Station
is changing. "Improvements" have been mentioned but we don't quite know what
those are as yet. We shall have to wait and see…
I will complete the last of my small Power Station paintings, of which there are about 12,
from drawings, pictures and studies made to date.  There will be 3–4 larger ones to
accompany Grey Sky for a series. By then, I will have created around 80 paintings
of White Bay Power Station, a structure will never be the same again.