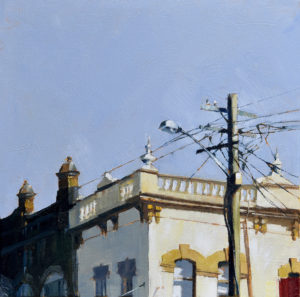 I haven't posted here for a while but I have been busy with some larger White Bay
Power Station paintings (more about those in a later post).
I'm currently working on a new series of slightly larger rooftop paintings as well.
These are all 30 x 30 cm and will be framed.
The tops of the lovely old buildings around Balmain & Rozelle are mostly intact
and untouched by renovation, so preserve the "quaintness" of the village.
We see them every day but we don't really look at them.
It's worth stopping and looking up. Better still, my new rooftop paintings will be
on show later in the year. Details will be posted soon.