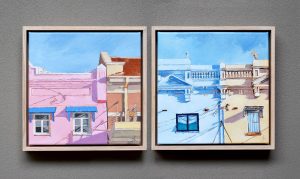 I was invited to take part in a PopUp Exhibition at Orange.
The exhibition (was very big!) was organised and presented by Paper Pear
at the Corner Store Gallery, Orange in July.
The Corner Store was once a real corner store but is now a very popular art gallery.
This was a huge exhibition with over 150 works of art on show over ten days.
Shadow Dancing #1 and #2
🔴  Both paintings sold at the exhibition. A big thank you Steph and Pear in Orange!