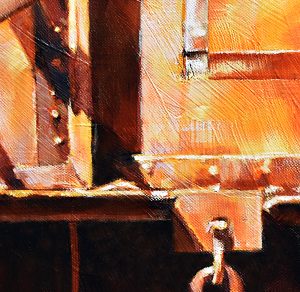 As part of the Inner West Open Studio Trail, The Collective Art Show
is a mixed exhibition of new work by some local artists who
have exhibited at Gallery 503. I will have new rooftop paintings for sale
in my studio from the Very Small series, but I'm exhibiting a pair of new
power station paintings in The Collective show.
These are close ups of the coal loader (detail at left) you can see from
Robert Street in Rozelle. Rusty, crusty and rich in texture and ochres and
terracotta colours. They are individual paintings but look stunning as a pair!
Join us for drinks on Saturday 13 May, 4-6pm.
Gallery 503, Balmain Road & Cecily Street Lilyfield 2040
Exhibition dates: May 11-25