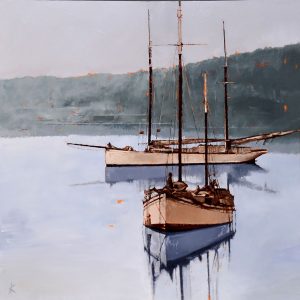 Well, I am a bit late but as it's coming up to Easter and this is the Year of the Rabbit,
I thought it was ok!
I can't say much so far this year but I did have a painting in the ASMA Lady Nelson Art Exhibition
in February. It was in Hobart City Hall during the Australian Wooden Boat Festival.
For those who were not part of the residency aboard the beautiful tall ship Lady Nelson, like me,
the brief was to enter something maritime and Tasmanian themed. I thought I knew a little about Huon Pine
and some of the native forest timbers of Tasmania but no! The more I found out, the less I knew!
There are the timbers… and then there is a very rich and interesting maritime history here as well.
Another 'kettle of fish' entirely!
Anyway, as I didn't have a couple of years available to do more research, I concentrated on the lovely old boats
crafted from now rare and protected (thankfully) Tassie timbers. Natural oils in the wood act as preservative
so many boats are still floating and (even better) are being restored.
Huon Ladies 76 x 76cm, oil on canvas, 2023.
(Available. Enquire here)
Sturdy, superbly crafted wooden boats of the early 1900s were built from the finest native timbers endemic to Tasmania's West Coast.
Huon Pine (the 'Prince' of conifers), King Billy and Celery Top. The Huon Ladies are fine examples of Tasmania's Heritage.
(Ref: Dunalley c1910 kindly supplied by Graeme Broxam).