A brand new collection of facades & power poles are on show and available from The Moree Gallery.
I think (really) these are my best to date! They are all 33 x 33cm, oil, framed in fine solid natural timber.
There are a few new ones here as well.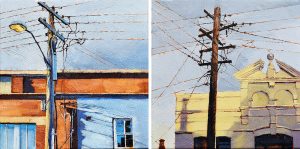 Thank you all for coming here and reading my posts – and for your
amazing support throughout the year, which has absolutely flown past!
And now it's Christmas…
Wishing you safe and happy holidays full of fun, love and laughter
– and all the very best for the coming year!