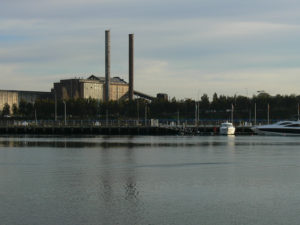 Sometimes images of urban abandonment appeal to us for reasons we can't explain.
I'm creating a series of larger paintings based on my observations of a crumbling
structure I like, and that marks one of our last connections with Sydney's
industrial harbourscape.
Its original purpose has long expired but White Bay power station once marked the gateway
to Balmain's bustling industrial waterfront. It's physical presence ensured it became a landmark,
a quality it still retains. White Bay is one of inner Sydney's oldest and most significant
industrial sites, often wrongly referred to as Balmain Power Station (which was located at Iron Cove)
now replaced by apartments. Bordered by traffic-choked Victoria Road to the West, and the defunct
Rozelle rail yards, and the ports of  White Bay shore to the East, this power station remains the last
of five that once serviced the energy needs of Sydney. Abandoned since 1983, White Bay power station
stands silent in decay, wearing rusting corrugated iron and red brick, broken windows and
tufts of grass, while it waits to see what the future will bring.