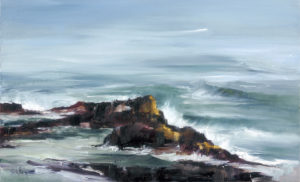 I enjoyed a break from the power station and power poles for a while,
when I painted Rocks & Sea for the Queensland exhibition (previous post).
So I created a few more. Where sea and land meet, the waves constantly play
with the shoreline.  It's here that nature makes its unique patterns and sounds,
showing it's moods of tranquility, great beauty, power and even violence.
Either way, we seem always fascinated by this spectacular ever changing coastline.
For me, having spent much time on the beach as a child, I feel a strong connection
with the coast, and a place I never tire from.
The series is now on display at 95 Beattie Street Balmain and can be
purchased from me. These are also available as Giclée fine art prints.