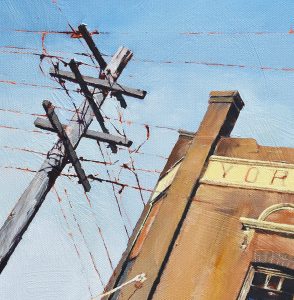 I love Community events! Celebrating 22 years, the Balmain Art Show
has grown to be one of the Inner West's most popular art & craft fair on
the Balmain Peninsula. I'm so happy to be part of this show.
Last year I showed a series of Peninsula Rooftops which I'm proud to say,
were a great success!  So here we go again… Peninsula Rooftops II.
These are small oil paintings, 33 x 33 cm, of familiar local facades,
rooftops and open skies. And the odd telegraph/power pole.
On Saturday and Sunday entry is free, so drop by – there's art, craft, markets
entertainment, face painting & amusements for kids too!
Balmain Art & Craft Show  –  November 3—5  Sat 9-4pm & Sun 9-11am
2 Eaton Street Balmain 2041