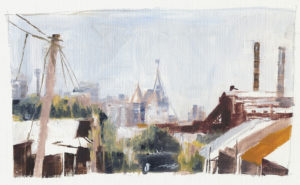 Occasionally I'm asked if I will do a commissioned painting.
I have always said "no" because they make me nervous.
But the requests are becoming more frequent so I will do
a commission if I think I can create a good painting.
This is one of a number (many!) of studies for a view down Brent Street
in Rozelle, looking towards the city. You can see White Bay power station,
the Anzac (Glebe Island) Bridge and Centrepoint (Westfield) Tower
as a contrast in background to the quaint little cottages in Rozelle.