27 Mar

37 women artists – Exhibition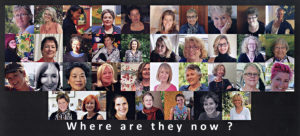 I have been invited to participate in an exhibition "Where are they now?"
at the Milk Factory Gallery in Bowral.
The gallery contacted the women artists who have exhibited in the gallery since it opened in 2005.
My first solo exhibition was in 2009 in this gallery, so I have a soft spot for this lovely space.
At the time I was worried about the commission that galleries ask – but then I was amazed at
what I got in return. They did everything! The gallery looked after me like I was their child (well, almost).
Marketing, media, invitations (to relevant collectors), the opening, and all the followup and sales
for the exhibition period. I could never have done that alone. The gallery was packed (it's a big gallery)
and the exhibition was a great success. So for me, the commission charged by the gallery is just fine.
There are 37 artists in the exhibition showing the work they are doing now.
Milk Factory Gallery,  33 Station Street Bowral
This exhibition is now extended until May 15 – open: 10am-5pm seven days