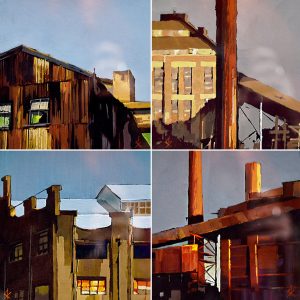 Abandoned since 1983, White Bay Power Station stands silent in decay,
wearing rusting corrugated iron and red brick, broken windows
(now boarded) and tufts of grass, while it waits, and waits, and waits
to seewhat the future will bring. I have been painting this crumbling
structure for about eight years – I will miss it when it's been cleaned
up and/or developed. Hopefully it will be sympathetic (like the Substation
in Melbourne or some of the ex power stations in the UK).
For now, I will keep painting what's left of this awesome structure.
These small, beautifully framed gouache (opaque watercolour) paintings
of White Bay are now available at Gallery 503.
Gallery 503
503 Balmain Road Lilyfield 2040 (at the Cecily Street bus stop & traffic lights)