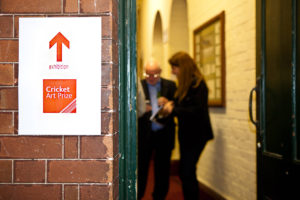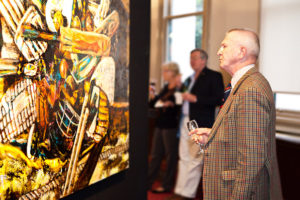 No, I didn't win!
But I do feel privileged to be included in this (almost 5 month!) touring exhibition,
which attracts some international attention,and that the judges selected my work
over almost 200 others. For an artist (me, anyway) to be selected as a finalist in a major
exhibition is enormously invigorating, and a perfect repellent for any nasty "painter's block".
Opening night was a lot of fun. It's fascinating to see how vastly different the approaches
to one subject can be. I thought all the paintings were great, so it must have been a
difficult decision for the judges (demonstrated perhaps by two highly commends this time!).
There was a lot of interest in my painting as well, so I'm happy. Also the four final poems
from the Cricket Poetry Award were read, which added an extra dimension to the exhibition,
the object of which was to bring people of all backgrounds together through cricket
and the arts. So then, maybe next year…
The exhibition is open to the public each day from 10am-5pm
until Sunday 31 October 2010, Member's Pavilion, The Sydney Cricket Ground
(Driver Avenue, Moore Park).