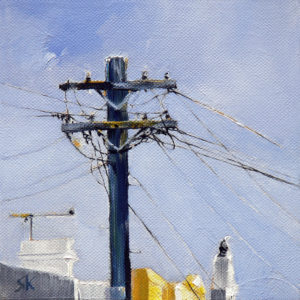 Pleased to say that this painting, Darling near Victoria, was successfully auctioned
by Bella Emporio in Rozelle and the entire amount raised went to those affected
by the horrific Rozelle fire.
"In the early hours of of September 4, a baby boy, as 11-month-old babies do, woke his parents
as they slept in their inner-western Sydney apartment. The young couple, living in a unit above
a set of shops on Darling Street, Rozelle, comforted their son. After taking him downstairs,
the young mother told her husband it smelt like someone was spray-painting a driveway outside.
A little while later he headed off for work, leaving their unit at about 3:45am, with his wife
and baby boy together in bed. Less than 20 minutes later a large explosion ripped through
the convenience store below, causing a fire that would claim their lives, their 27-year-old neighbour,
and completely destroy the homes where they lived." – Sydney Morning Herald
No one knew why or how such an event could happen in a closely knit village shopping strip.
The fire-damaged building on Darling Street needed to be demolished before the strip could reopen,
and it was also a crime scene. No one knew how long it would take. The normally buzzing little village
was suddenly like a ghost town, surrounding affected buildings were unsafe, some businesses closed,
others struggled for weeks, and the whole community was in shock. Finally the convenience store owner
was charged with a number of offences offences including murder, attempted murder, manslaughter,
and setting a fire for financial gain.
Rozelle is once again a buzzing little village, with an even stronger community bond, but no one
will ever forget what happened on that morning in September 2014.